Cracking the Code: Decoding ECB's Unpredictable Moves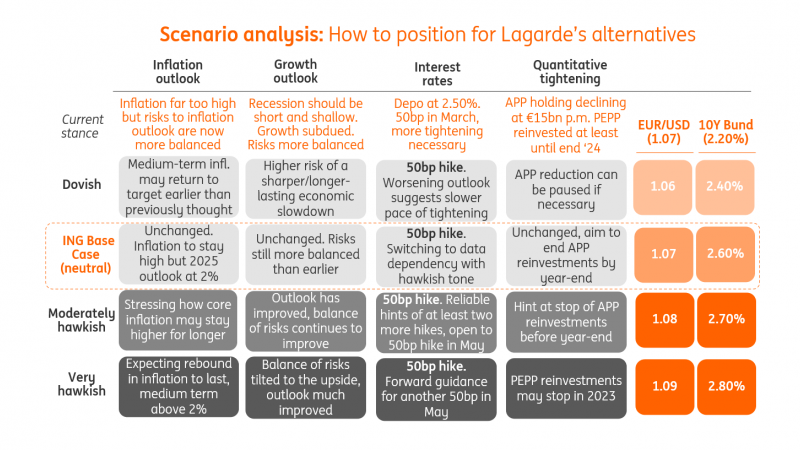 ECB Cheat Sheet: Predictably Unpredictable
The European Central Bank (ECB) is set to hold its March meeting this week, and investors are trying to decipher what kind of policy moves it may make. Speculation is high as the ECB's strong guidance around a 50bp hike at the meeting has intensified. However, recent developments in the US banking sector and large swings in rate expectations mean that a 75bp move is less likely, and investors are considering 25bp as a possibility.
The ECB's Dilemma
The ECB's dilemma is twofold. Firstly, it is data-dependent, which means it must evaluate the current economic situation before deciding on future policy moves. Secondly, its President Christine Lagarde and colleagues struggle to communicate the nuances of monetary policy decisions in the press conference. Unfortunately, attempts to communicate the details of policy decisions have resulted in outsized and quickly reversed market reactions.
Near-Term Jitters
As investors anxiously await the ECB's next move, it's important to consider how far the market has moved since the last meeting. Core inflation has continued to rise, and investors have responded by increasing their predictions. The swap curve, for instance, has moved its implied deposit rate by 75bp after the last meeting to over 4% at some point last week. Despite this, recent history is full of examples of markets misreading the ECB's hawkish intentions.
Related Facts
The ECB is expected to hike interest rates by 50 bp at the March meeting.
Recent developments in the US banking sector have caused concern among investors.
The ECB has struggled to communicate the nuances of monetary policy decisions.
Markets have misread the ECB's intentions in the past.
Key Takeaway
The ECB's policy decisions are unpredictable, as evidenced by market reactions and investor expectations. However, it's important not to misread the bank's intentions or overreact to press conference communications. Instead, investors should remain patient and listen carefully to the ECB's explanations of policy moves to avoid unnecessary market fluctuations.
Conclusion
The ECB's challenges in communicating policy decisions and navigating financial risks are increasingly evident as we approach its March meeting. As a result, investors should be prepared for potential surprises in future policy moves and avoid making too hasty predictions or decisions based on these expectations. It remains to be seen how the ECB will tackle these challenges, but investors should buckle up for a potentially rocky ride.