Fed's Insights on Agricultural Economy – Analyzing Trends and Future Prospects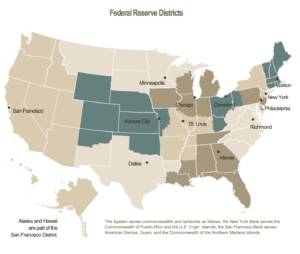 Federal Reserve: Observations on the Ag Economy- February 2023
The Federal Reserve Board just released its February 2023 Beige Book update and some notable observations on the current state of the U.S. agricultural economy. The report includes commentary from Federal Reserve Districts, providing insight into the various agricultural conditions across the country.
Sixth District- Atlanta
According to the report, agricultural conditions in the Sixth District remain mixed. While demand for beef has increased, particularly for calves following Texas' downsizing of herds amid recent droughts, demand for milk has declined. Reduced exports of powdered milk to China were cited as the cause of this downturn, along with decreased demand for butter. Cotton demand also remains weak. Despite Florida's production of citrus fruits being limited by tree damage, demand for citrus remained strong. However, Avian flu-related restrictions on exports significantly reduced global demand for poultry meat, leading to an increase in domestic supply but a loss for poultry companies amid high costs and falling prices.
Seventh District- Chicago
The report also notes that contacts' forecasts for District agricultural income in 2023 were mostly for near-average returns, lower than the above-average yields in 2022. Wheat prices have risen due to longer Russian inspection times for Ukrainian grain shipments and buyers' reluctance to enter purchase agreements, given uncertainty about the continuance of shipping arrangements with Russia. Corn and soybean prices have also risen, spurred by uncertainty surrounding South American harvests. While lower costs for some inputs have helped farm incomes, rising feed costs remain a concern for livestock producers. Egg prices have dropped from extremely high levels, and dairy prices have also generally been lower. Some small dairy operations have even closed in the face of higher interest rates on loans, making it more expensive to expand to a profitable scale. Nonetheless, cattle and hog prices have moved higher since the previous report.
Eighth District- St. Louis
The Federal Reserve reports agricultural conditions have declined moderately in the Eighth District over the past year. Although there has been a 27% increase in acres of winter wheat planted in the District this season, contacts are less optimistic about the rest of the year. There is concern over rising input costs, primarily labor expenses, and sales at or below expected levels. Some contacts went so far as to voice concern that higher interest rates were putting pressure on their balance sheets.
Ninth District- Minneapolis
Unfortunately, the report provides no commentary on agricultural conditions in the Minneapolis Ninth District.
Related Facts
It's always interesting to see the trends in the agricultural economy across different regions. While there are certainly some bright spots, there are also some areas of concern. Input costs continue to rise, and lower demand for some products and fluctuating prices have created additional stress. Nonetheless, there has been good news in some other areas, like beef and pork.
Key Takeaway
It's important to stay informed about agricultural conditions and related factors, as they can directly impact farmers, the food industry, and other areas of the economy. TTaking a comprehensive approach to understanding these trends can help stakeholders better plan and respond to challenging situations while capitalizing on new opportunities.
Conclusion
While some agricultural sectors are thriving, the picture across the U.S. is mixed. Although demand for some products has increased, it is essential to remain aware of the overall state of the industry, which includes high input costs, lower dairy and egg prices, and weak cotton demand, among other challenges. Nonetheless, industry challenges also present opportunities for innovation and new ways to improve practices and processes.